How To Take Pictures Of Clothes To Sell With iPhone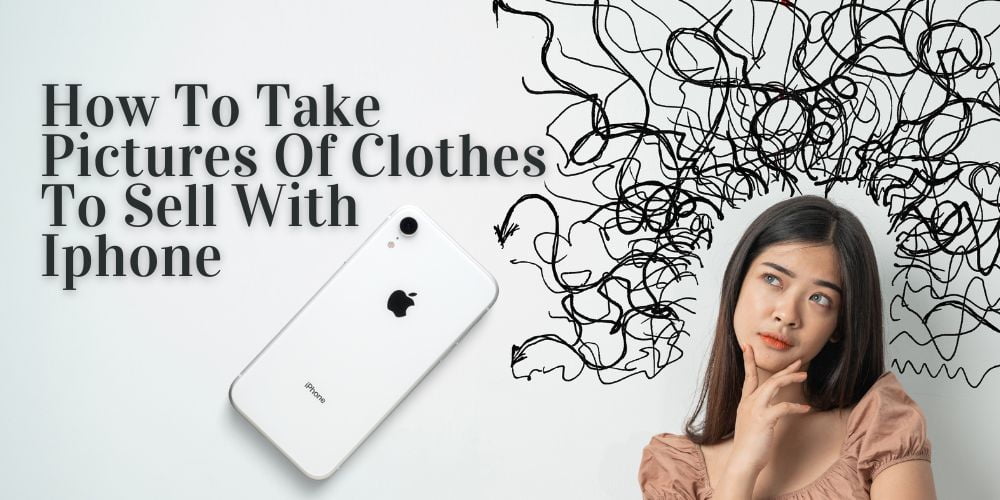 There are a lot of new e-commerce clothing business owners who have just started up, but they don't have the money or equipment to hire professional photographers. In this case, they use iPhone photography to run their business.
The vast majority of people who run online stores know how to use an iPhone to take photos of their products. These include finding a white background, and natural light, and setting their iPhone to the highest quality setting and resolution. A picture of the product is a wonderful way to get things going.
However, a few additional pieces of equipment and accessories can significantly improve the quality of your photographs. These tools and equipment can also show the benefits of your product in a way that lets customers imagine how they will look after wearing the dress.
We're going to show you how to take good clothing photos with your iPhone. This guide will show you how to take pictures of clothes to sell with an iPhone so that you can take pictures of your clothes that look great.
iPhone vs Android: Aspects of Taking Clothing Pictures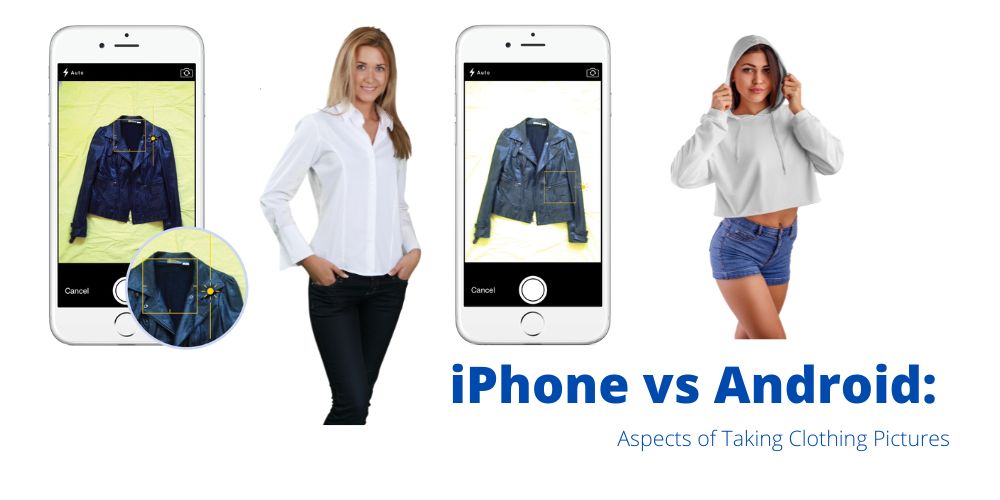 The number of people who prefer smartphone photography is not that low. Obviously, not everyone has the ability to run a clothing business out of an iPhone. They may prefer to use an android, but before replacing an iPhone with an android, knowing the difference between them is important. Here are a few aspects:
1. Costing
One of the most important things to think about before you buy a phone is how much it costs. iPhones will always be more expensive than Android phones, mostly.
But there are some high-end Android phones that cost even more than iPhones. If you don't have much money, you can get an Android phone or you can buy an older iPhone.
The difference between the quality of Android and iPhone photography may be difficult to tell because they both have different levels of expertise.
2. Camera Condition
The iPhone is more effective in low-light situations than other smartphones, even though its sensor is smaller and it has a lower resolution.
In addition, it has an optical image stabilization mechanism that allows you to shoot clear pictures even when the shutter speed is set very low.
There are several Android smartphones that are better than the iPhone in terms of functionality. But mostly, the iPhone goes beyond what it offers.
3. Usage of the Application
Apps are essential to your smartphone's functionality, just like the camera is. As a result, it is essential that you pick a device that works with the applications you want to use.
In the case of Apple, it has always had a strategy of limiting the types of programs it allows in its app store. These details suggest that Android offers a greater variety of options.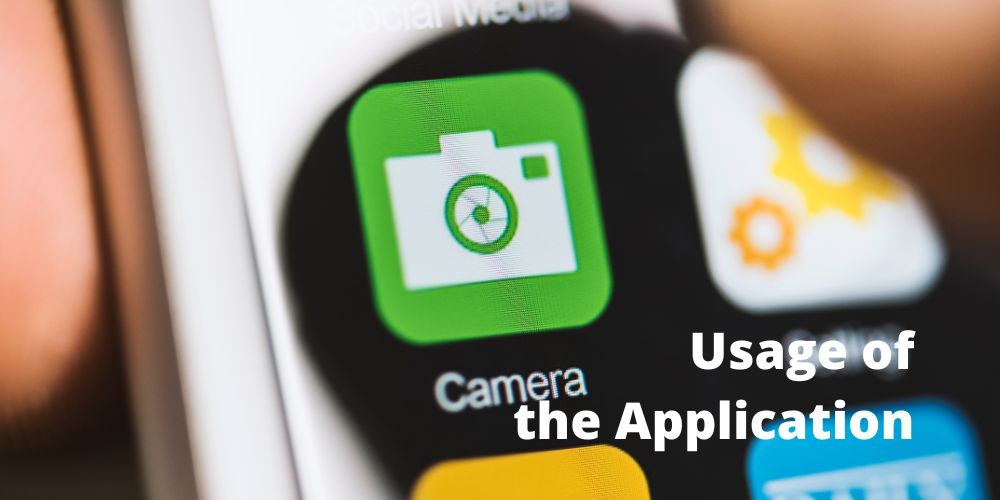 On the other hand, Apple App Store customers are happier with the apps than Google Play Store customers. Android has many different kinds of apps to choose from. Many Android apps have problems and bugs because the hardware and software have changed.
Android doesn't update its operating system as frequently as Apple does. As a result, most Android applications contain bugs. This is one of the key causes of some Android-based apps ultimately becoming unstable.
Nowadays, both the iPhone and the Android operating system are compatible with many well-known photography and editing programs, including Lightroom. This ensures that customers will have access to the most cutting-edge digital photographic equipment available regardless of platform.
Techniques for Taking Great Clothes Pictures with the iPhone
Before clicking pictures with your iPhone, keep these steps in mind:
Set Up Your Camera For The Best Possible Shot- Background Selection And Lighting
Choosing the best background is the key factor in clothing photography. A white background is ideal for apparel photography because it draws the attention of the customer. But when it comes to your images, you don't have to stick with a white background.
While photographing white or clear objects, it's best to use a darker background. The most important thing is to pick a background that goes well with the products.
Now choose the place to do the photography. A floor and a table are the best places to take photos of your clothes at home. You can also use hangers. With a few simple pieces of equipment, you can turn any room in your house into a photo studio.
Photographers who want to save money can get by with just their phones and light. But, you could buy camera equipment if you have a little more money, but it's not necessary, as we've already talked about. Using natural light from a window is the best way to get the most out of your money when shooting clothes for commercial use. To get the best results, put your product as close as possible to a window. When the sun is out, your photo will have a lot of shadows.
When the sun is out, there will be a lot of shadows in your photos. By putting up a sheer curtain or a piece of fabric, you can soften and filter the light and keep it from getting too bright.
The goal of your lighting is to make your clothes look good while also filling the whole frame. If you can afford it and don't have access to enough natural light, you can buy or rent basic studio lighting. You don't have to worry about the weather or the time of day when you have artificial light.
Artificial lighting makes shooting faster and easier while keeping the level of light the same from shot to shot.
Prepare The Outfit In Advance
Every piece of clothing you own should be checked thoroughly from top to bottom. There may be labels, stickers, or other things that need to be taken off. Remove them from the clothes before taking a picture with the iPhone.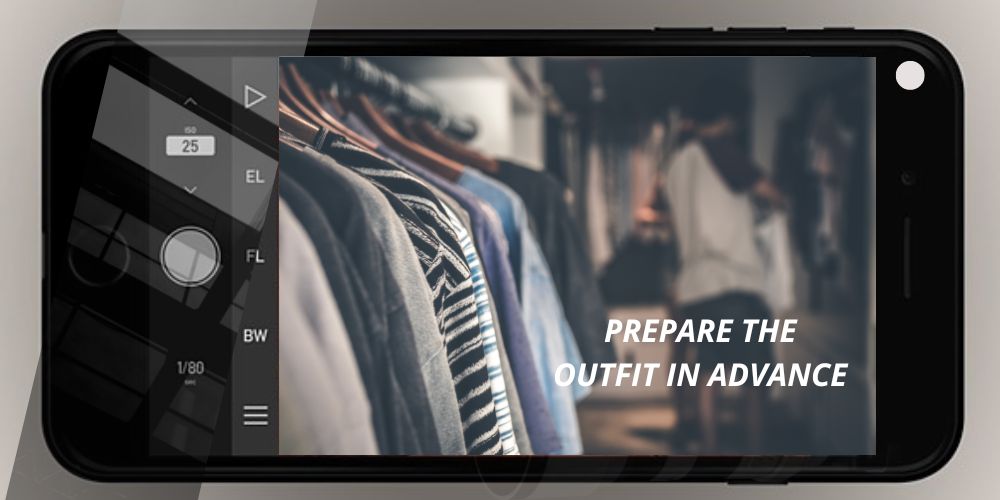 Make sure there are no wrinkles in the products. The clothes should be ironed or steamed in this case.
A company's lack of professionalism and the products' reduced appeal are both emphasized when an item's cover is covered in dust or hair.
To get the most out of the product, use a lint roller to remove any stray hairs.
Despite the fact that this is a well-known method, many photographers neglect it because they think they can "iron out" wrinkles and other flaws in post-production. But these flaws can not be fixed by editing.
Arrange And Style The Clothes
At this stage, become creative and arrange the clothes on the background surface of your choice. Experiment with different ways of arranging the clothing to get the best look.
It is not always necessary to use tape to fixate the clothes to a specific shape, but doing this can be beneficial. You can also hang the clothes if you think that's the best way to store them.
When it comes to styling, things get exciting since you'll be able to modify the arrangement of your images using anything that looks beautiful. In another way, we can say, styling has the power to make or break an outfit in several ways.
Moreover, using props to enhance the visual attractiveness of your items is strongly suggested, especially when photographing them.
Props may help a photograph stand out from the crowd and grab the viewer's attention while also adding a sense of ambiance to the subject. Use props that are relevant to the topic of your photo.
The appearance of your frame is the main thing to consider. You are free to change this step in any way that works best for you.
Be specific in the product description and make it obvious that the extra features are not a part of the overall cost. It's important to us that we don't give our clients the wrong idea about clothes.
Make sure to plan and style your clothes both without and with props, as different types of images are used for different goals.
Now Click Picture
It's time to get out your iPhone and take some shots. Get the right angle, and this is the first and most important piece of advice. If you want to get flat-lay pictures, set your iPhone at a 90-degree angle. If you're working at a table that's too high for you, consider standing on a chair to make things easier.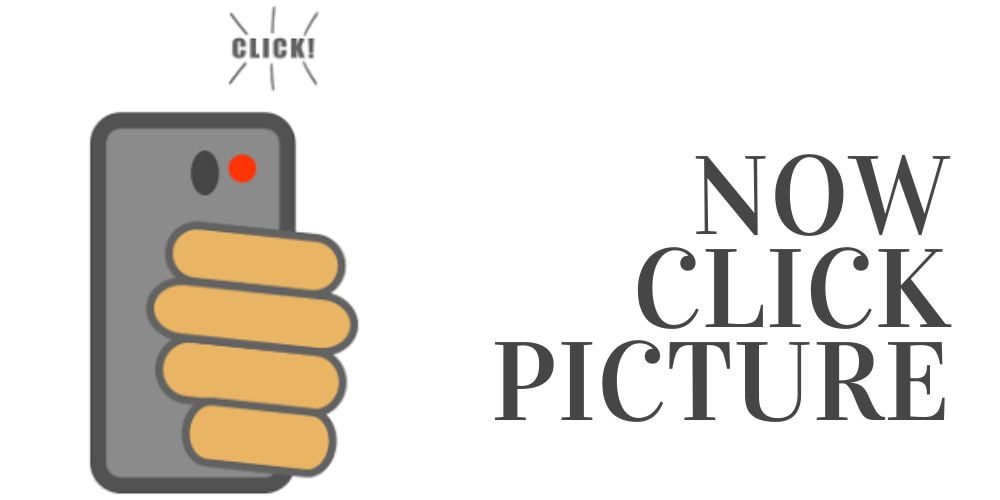 You may avoid the shaky-camera look by using a tripod. Use a tripod and raise it to a comfortable height before adjusting the first two legs to point toward the table and suspending the third leg in the air. Secure it to the table for support and angle your phone's camera.
Take more pictures than you think you need to have more options when it's time to edit.
Close-ups of clothing photographs are vital to portray the texture and quality of the clothes to potential customers.
Modified The Photographs With Post Production Service
After the photos are taken, they must be edited or manipulated by a good clipping path service provider.
In such a case, a wide range of editing procedures must be tried, including cropping, adjusting the light settings or exposure, adding the optimum white balance, and color fixing, which is the preferable areas.
When you edit product images, you can experiment with all kinds of settings to see what works best for you. However, when working with images of apparel, it's especially important not to over-edit.
Bottom Line
Taking photographs of clothes is simple with the iPhone. Do your photography in daylight with a white background, and follow the aspects that we have mentioned. If you follow these aspects with punctuality, you can grow your sales with the iPhone without a camera.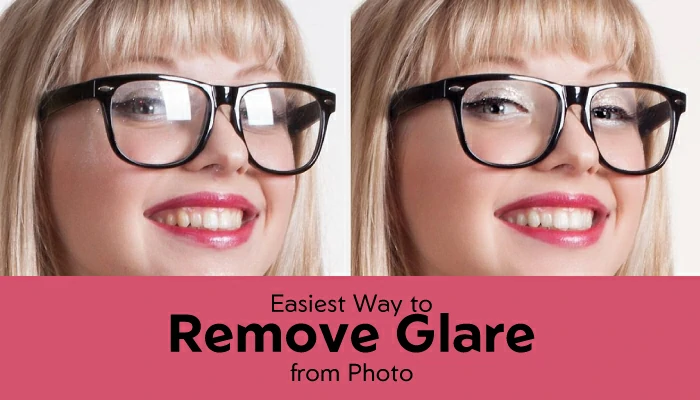 Easiest Way to Remove Glare from Photo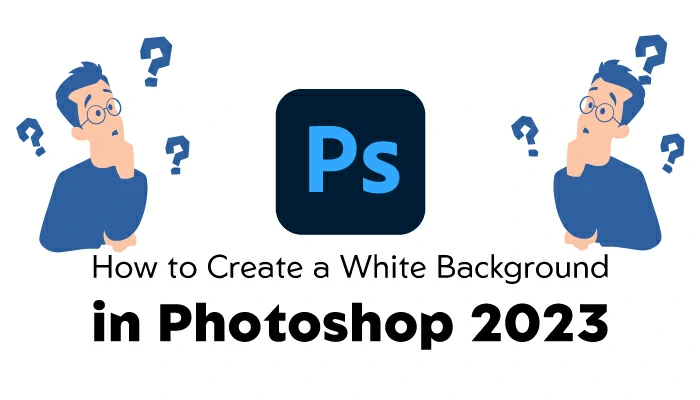 How to Create a White Background in Photoshop 2023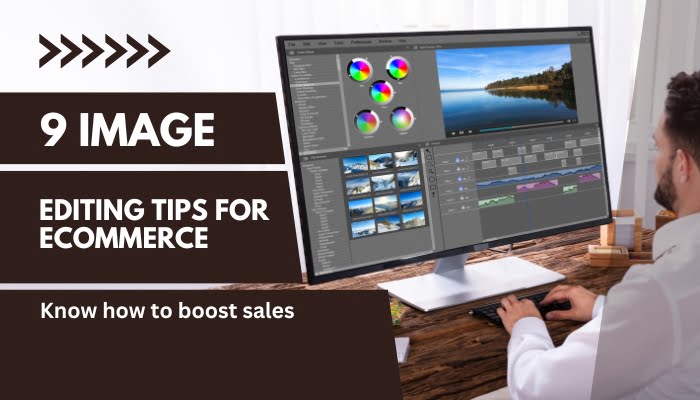 9 Image editing tips for eCommerce: know how to boost sales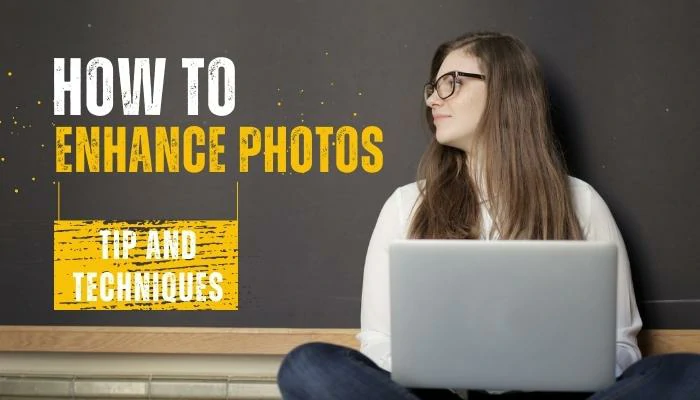 How to Enhance Photos: Tip and Techniques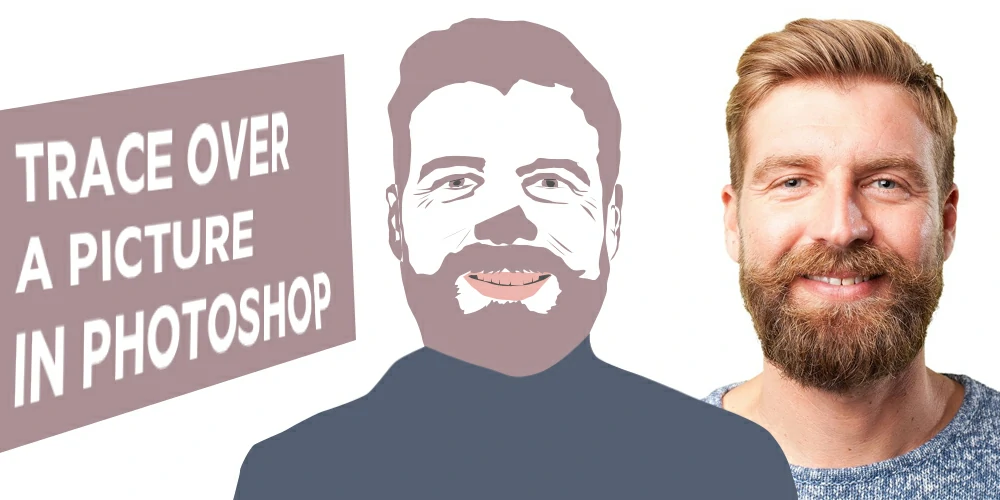 Trace Over A Picture In Photoshop- Easy Steps to Follow
Recent Posts