5 Best Techniques to know- how to take pictures of shoes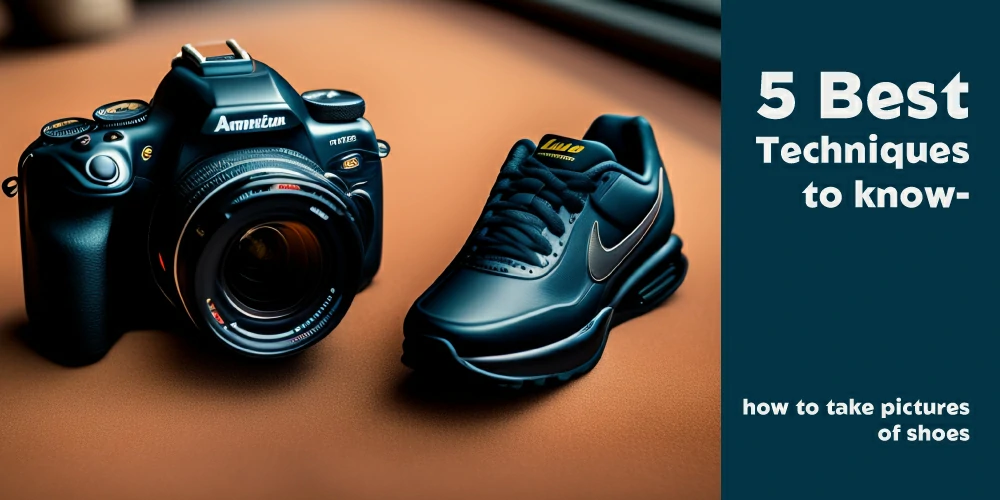 Having a professional take pictures of a product always makes it more valuable, especially if the product is something the buyer can use. There are a lot of products available that people love to buy after seeing visually appealing photographs. Shoes are one of them.
More than $18 billion (USD) is spent annually on footwear in the US. By the year's end, it should have risen by about 2%.
Capturing footwear product images with an appealing appearance is essential for online shoe publishing. Buyer interest can be increased if the photographs are visually appealing. People can become interested in buying shoes by seeing nice photographs rather than an ordinary photograph.
So, eCommerce businesses should focus on clicking nice photos to lure customers. But do you know? Which aspect should you keep in mind while photographing shoes?
In this article, we will provide you with some fundamental shoe photography tips that will help you take pictures of shoes.
Photography Tips to Take Pictures of Shoes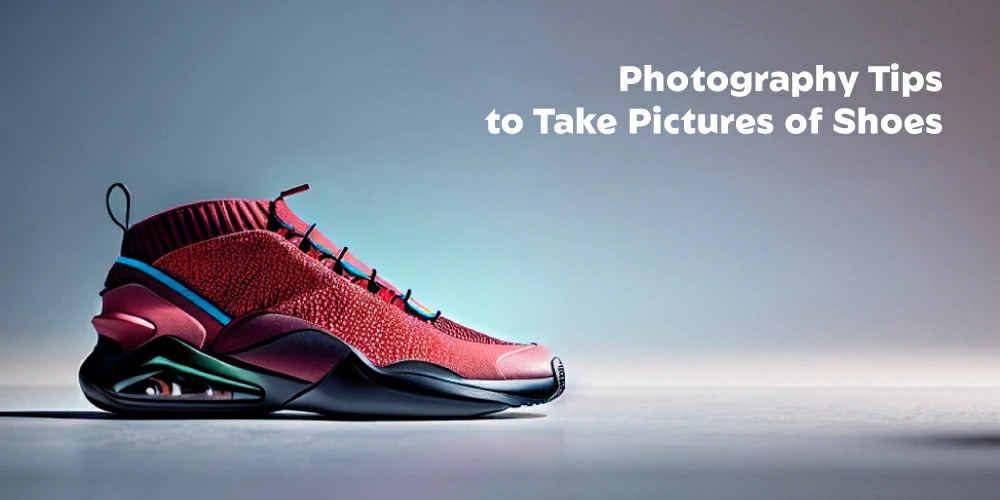 To take beautiful pictures of shoes, you need to make a plan and stick to it. Check out some famous web stores for footwear displays and learn from what you find there. Examine the composition from all sides, down to the shod feet and the background colors.
Having a solid strategy gives you a leg up on the competition. You should also learn how to use the camera's controls better.
Here, we are just giving you some tips that you can use to take incredible pictures of your shoes.
#1. Adjust The Lighting and Background for The Photo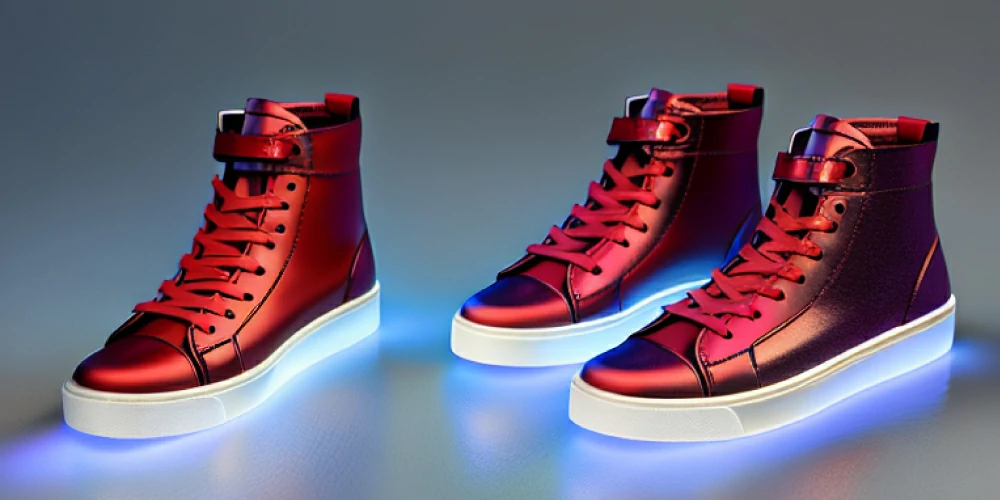 Lighting is an important aspect whenever you are planning to shoot anything. Shoe photography is nothing different, but it can be tricky as well. But if you play around with the light and distance, you should be able to capture some great shots.
If your shooting spot does not contain enough light, a lightbox can be helpful for taking pictures of shoes, though any lighting setup for photography can do the job nicely.
Additionally, for crisp, well-presented photos, keep a roll of non-reflective white paper, including lights. If your shoes aren't in the right place, place them appropriately and try to avoid harsh shadows. Alternatively, you can use a studio light as well.
#2. Focus On The Little Things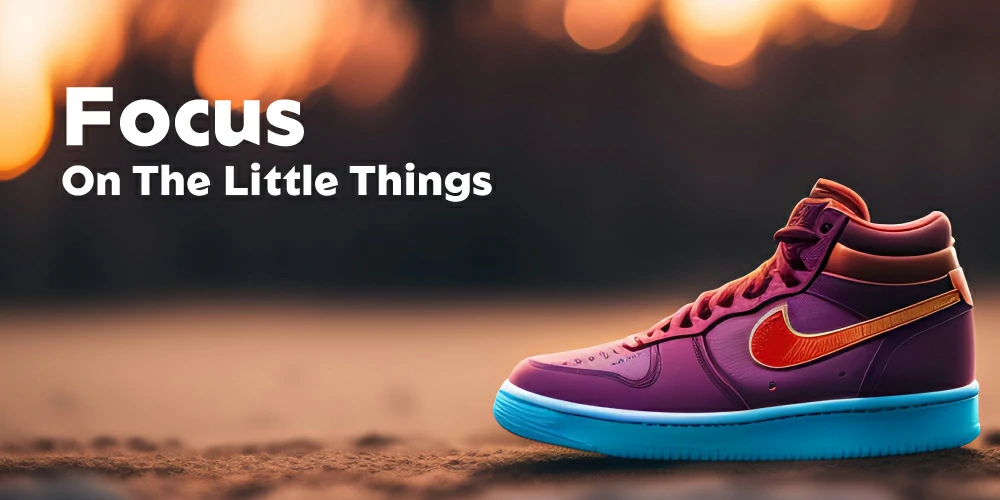 People who buy their shoes in a physical store inspect each shoe very carefully. But they cannot do this when shopping online. In such a case, the only way is to showcase shoes from different angles. To give customers a full picture, professional photographers have to take pictures of their subjects from different angles.
All of the major online retailers like Amazon, eBay, and Walmart let you add several product images, usually five or more. You should also follow them if you are also an eCommerce retailer.
Furthermore, if you want to shoot off your foot, your shoe needs to be in the appropriate shape. Make sure the shoe is filled with cotton or fabric, if necessary.
Moreover, it's also important to clean the shoe thoroughly. Cleaning the frame is also important as well. Because if there is dust in your frame, you will need to spend time in the image editing software to remove it. Do not forget that doing things properly during the photo shoot can save you time.
#3. Try Out Different Perspectives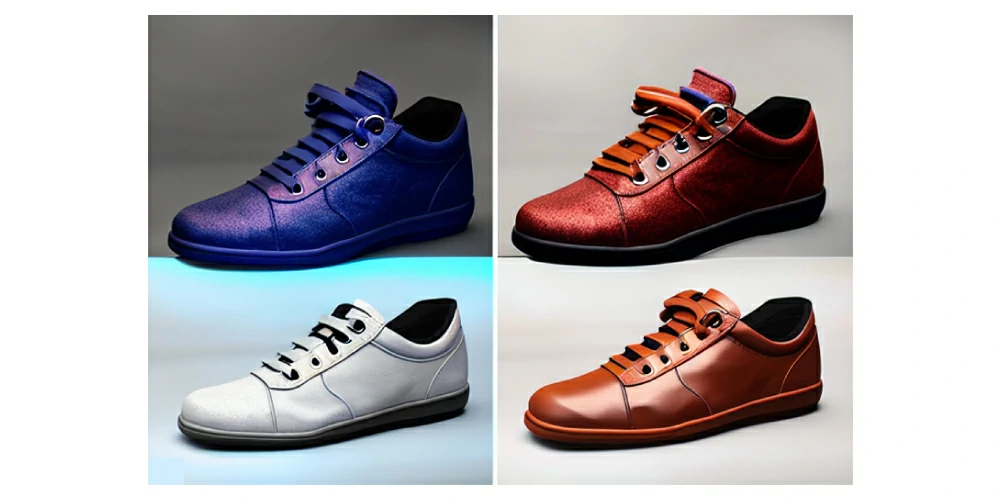 When considering how to photograph shoes, keep in mind that customers who purchase online prefer to see the product from all perspectives. This means including a picture of the shoe from the side, back, top, and any other positions the customer might be interested in.
A close-up picture draws attention to a certain part, like the texture of the fabric, the color, or the different decorations.
Do not simply photograph your shoes for the sake of your business. Portray your shoes according to the needs of your customers. Do research on the current market and take note of what types of pictures are trending on the market.
#4. Take Photographs of a Model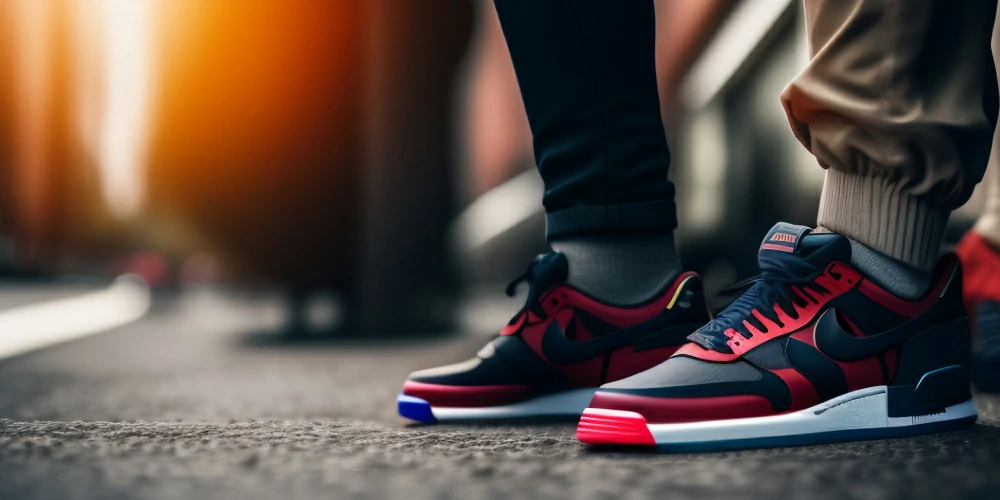 A model's presence in the images will make the shoe photography more interesting and personal. Consumers like to visualize themselves walking around in their shoes on real feet.
Having a model showcase them is a great way to get people to recognize and admire your brand. Experiment with several poses to see which one works best for showcasing your product.
It is best to show the flexibility and simplicity of use of a pair of shoes by walking, jumping, and dancing about in them.
If you want to see the finest results from your online business, you need to offer a lot of different types of images for people to choose from. In such cases, photos of models shot on white backgrounds are stunning.
#5. Flat-Lay Images of Shoes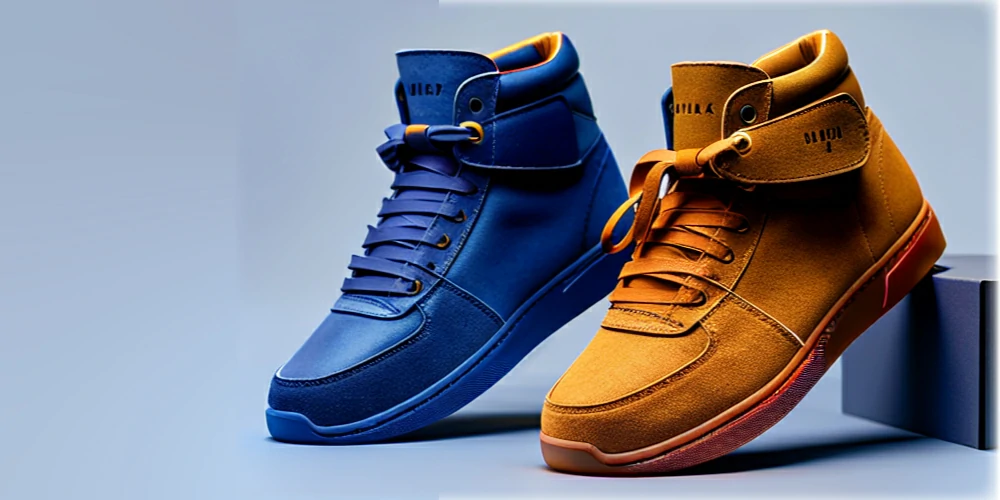 You may make a pair of shoes look much better with the "flat lay" method. The ideal technique includes photographing shoes at a right angle to the flat. In general, it will improve the visual appeal. While doing so, the setting is of no concern.
When photographing shoes, shadows from the background can be distracting. As such, if you can, adjust the light's angle.
In any case, a reflector can be used to counteract the shadows. Shadows can also be removed with the use of post-processing techniques.
6. Don't Overlook The Importance Of Photo Editing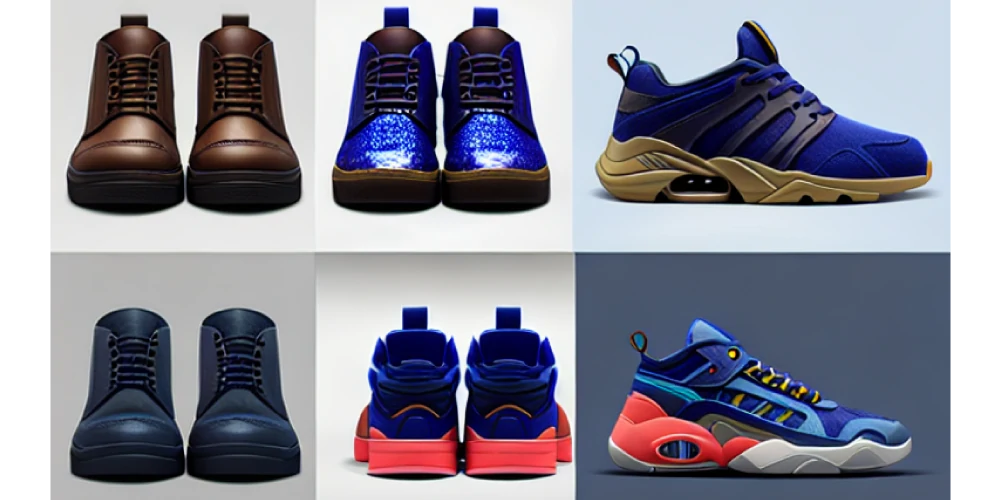 After taking photos and choosing the best ones, the next stage is editing. Use a tool like Photoshop to keep your shoes' picture clean all the time. But don't eliminate all the shadows with editing. Try to keep your image natural.
If you don't believe you have the time to edit the photos yourself, you can always hire a post-production house to assist you. Don't compromise on photography if you want your online store to succeed.
Top 5 Shoe Photography Mistakes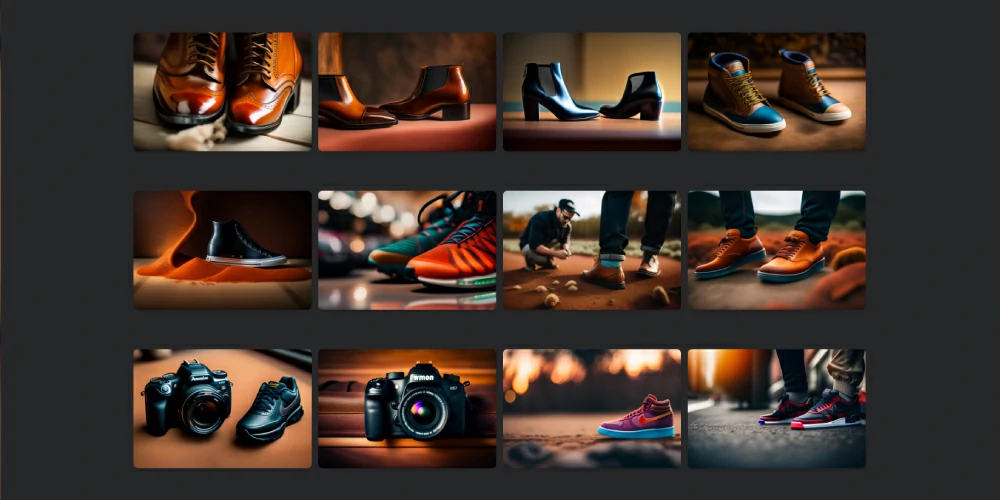 Mistake 1- The colors are not accurate for shoes
As a first step, be careful of the shoes shown in photographs; they must look good. Balance the light according to the color of your shoes. It's important to double-check the camera's settings whenever you switch to manual mode. If you forget to do that, then do it in the post-production stage.
Mistake 2- Inappropriate Use of Background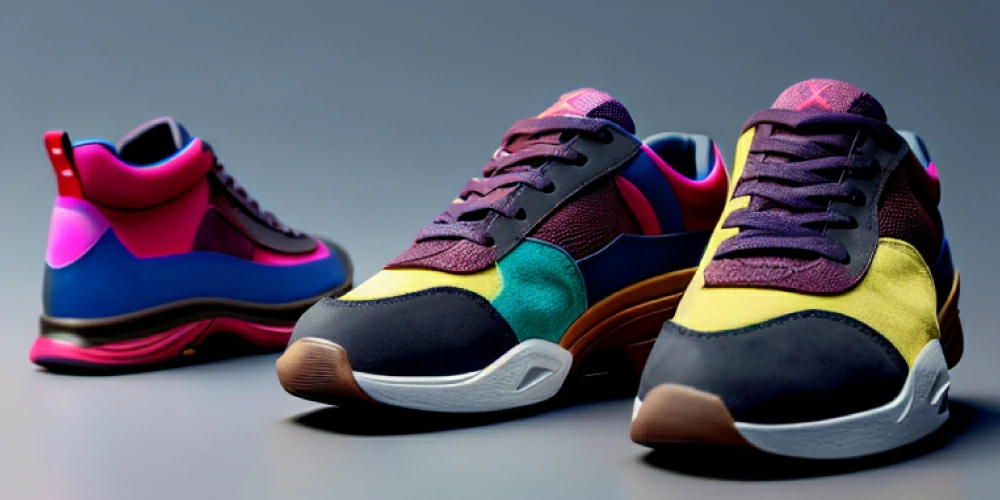 Green shoes on a red background! What a horrible combination, isn't it? When you are just photographing shoes, be careful about the combination of the color of the shoes and the background.
Websites like Amazon and eBay are quite picky about the backgrounds of the images they approve. They usually choose white backing because it draws buyers' attention and gives shoes a more eye-catching look.
Use a white or solid-color background if you want your product images to look polished.
Mistake 3- Not Taking Sufficient Photographs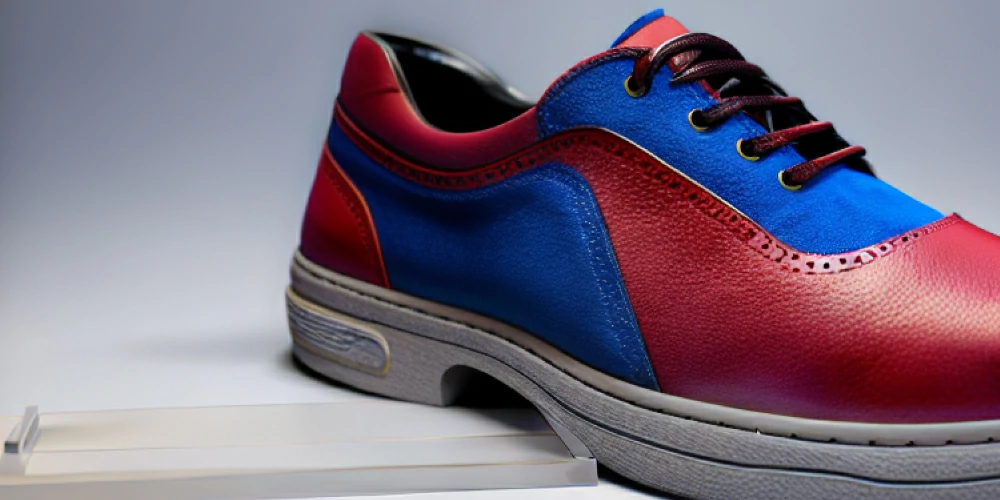 When selling something on an online marketplace, there is no limit to the number of images you can upload. It's not ideal to use only one or two photos for each product. In the case of shoes, at least four pictures per shoe are required.
Upload multiple pictures with different angles to give the real essence of a pair of shoes to your audience.
Mistake 4- Avoid Uploading Shoe Photography Without Editing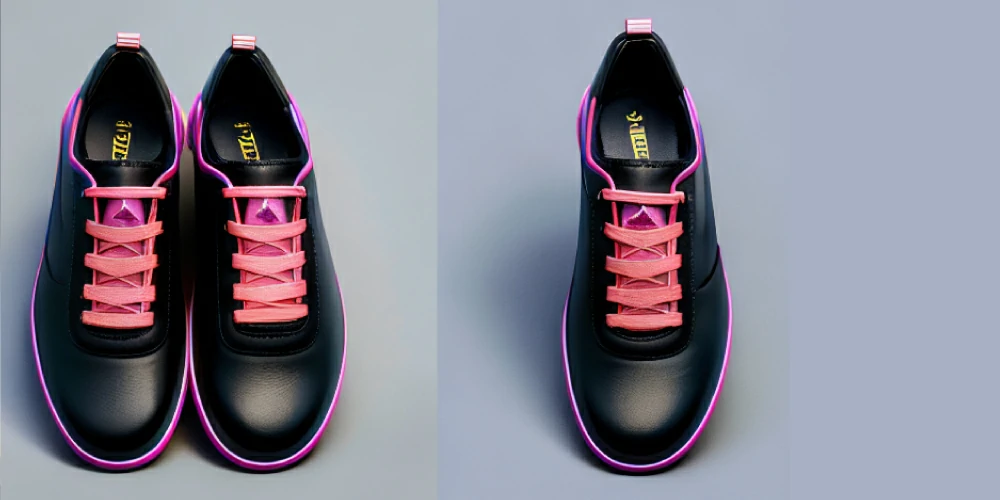 You can't get high-quality shoe photos without retouching. Images that are uploaded by well-known companies or sellers with high ratings are always changed before they are put up.
You can use a professional photo editing service if you don't feel comfortable or have the time to edit the images yourself. In other words, you may rely on Clipping Solution to complete that job. Moreover, you can read this to know more about shoe photography.
FAQ
How do I take a good picture of my shoes?
If you want to create visually appealing photographs of shoes, you'll need to spend time and money on lighting to bring out the details of the footwear. Get a nice camera with appropriate settings. Prepare the setup and get nice shoes.
Conclusions
Follow these guidelines to take better photos of shoes for your online store and provide your customers with a better buying experience.
After a little experimentation, shoe photography can become a lot of fun. If you put in the time and effort to experiment with different points of view and lighting, we have no doubt that you will find a method that best expresses your brand's essence in your photographs.
So, follow these guidelines; doing so will improve the quality of your shoe photos as well as the happiness of your customers.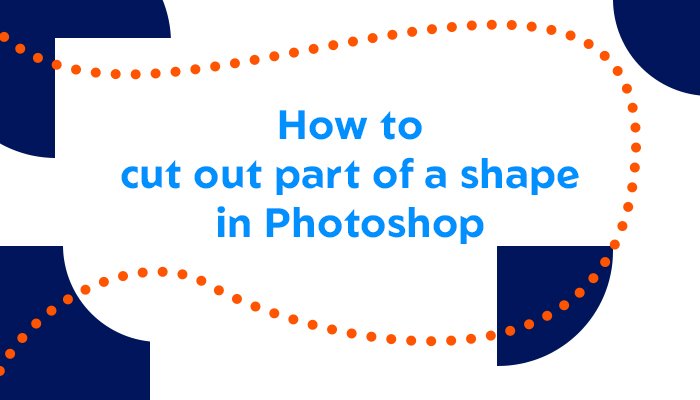 How to cut out part of a shape in Photoshop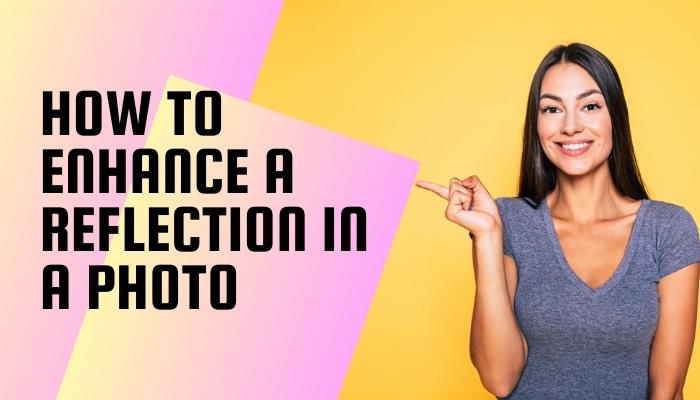 How to enhance a reflection in a photo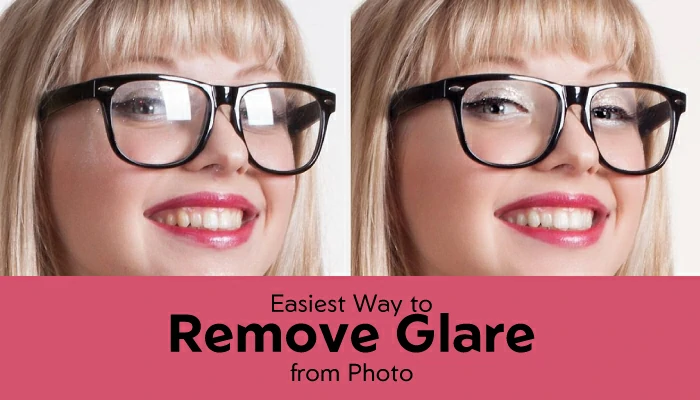 Easiest Way to Remove Glare from Photo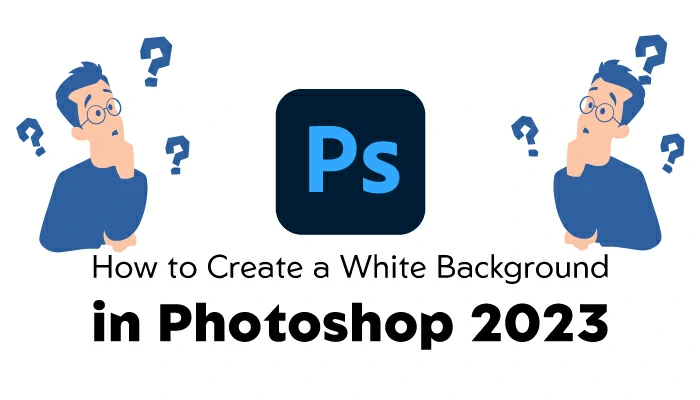 How to Create a White Background in Photoshop 2023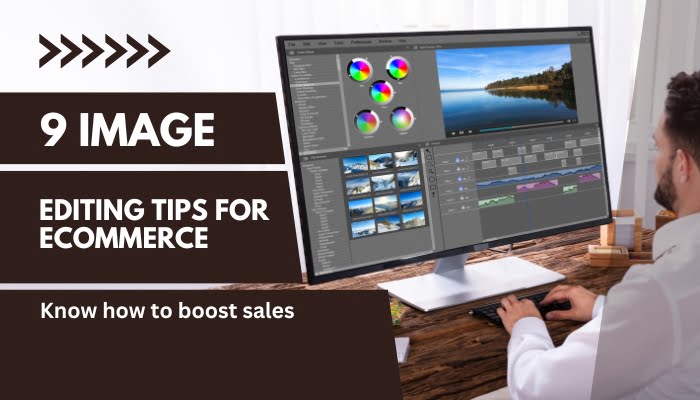 9 Image editing tips for eCommerce: know how to boost sales
Recent Posts